There are many times that someone may need to move locations due to a job or the entire company is deciding to do some overseas moving. The team that we have at Sea & Air International can help you with a hassle-free corporate move that you are needing to make. We are professional, qualified, and trained as international packers and movers to know all the steps that are needed to be taken. Our team of international movers is there to help make this transition a little less stressful for your company.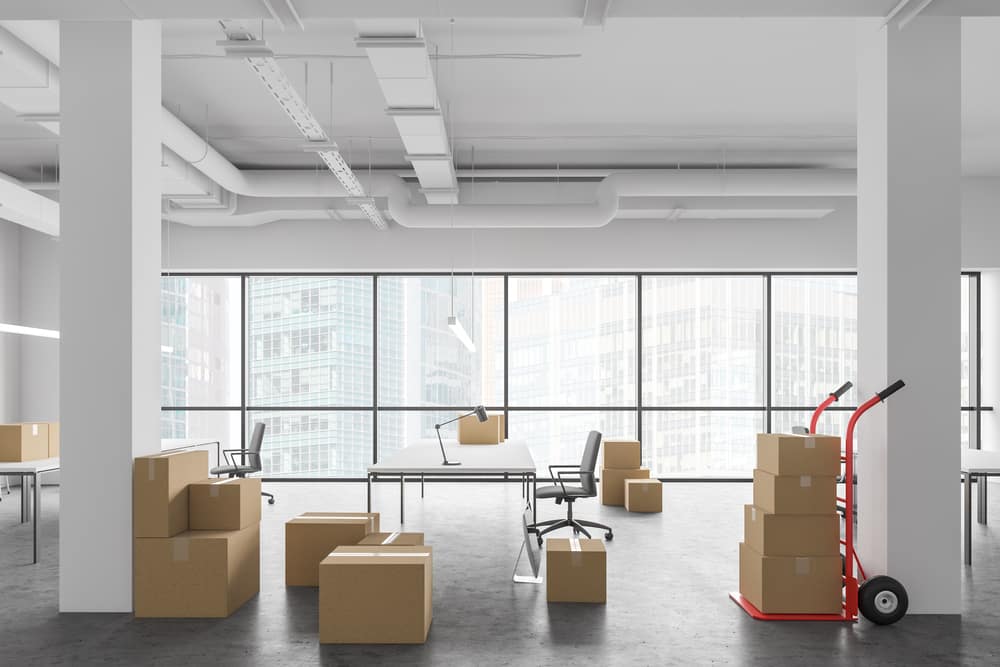 The Corporate Relocations Services That We Provide
Sea & Air International has a variety of international relocation services to make your corporate move a success. We make sure that we can meet every need that you may have during this time. Listed below is a brief description of the international packing and moving services that we can provide to you.
Storage Options- We can keep your business's belongings stored and safe until your new location is fully ready for your international relocation.
Shipping Documents Services- There are many documents that are needed to move internationally, and we will help you ensure everything is in place. 
Transportation Services- Our team will work thoroughly to make sure all your office's belongings arrive safely and are accounted for. 
Sea And Air Transportation Services- Our overseas moving team can ship your items by air or by sea, it is your choice. 
Delivery and Unpacking Services- Our international packers and movers will pack your business's belongings and help you unpack at your new location. You can also pay an additional cost for our maid and put away services.
Specialty Moving Of Items- Cars, Boats, Antiques, Art, and Pianos
Full Service- We will make sure everything is done and in place for your international relocation. Making a corporate move requires a lot to be done. We can help with export packing, custom crating, and even steel container loading, shipping, and unloading. 
Know Your Packing And Storage Needs 
We are an experienced and professional international moving company that has served more than 20,000 customers in more than 50 different countries. We will be there from the very beginning of your move to assist you with an estimate, as well as help to professionally and safely pack all of your precious belongings and cargo. And once it has been shipped or flown to its new destination, our team will also be there to safely assist you with getting everything unpacked at its new home. There is no step in this process you will have to make alone.
Knowing your storage needs ahead of time is highly recommended so that you don't spend more on a larger space you don't need or too little on a smaller space that simply doesn't fit your storage needs. Portable storage units can be very helpful in a move since they can store your items before, during, and after the move. Self-storage units are great for those movers who are looking for long-term storage options. Here at Sea & Air International, we offer our customers storage solutions, as well. We have a secure warehouse facility that is quite capable of storing your home goods, office furniture, and corporate goods.
A great tip to ensure the packing goes smoothly is to be sure you are ready for our packers when they arrive. It's counterproductive when you are trying to pack but there are things still being done or needing to be done. Laundry is washed, dishes are cleaned, and computers or other electronics are not still plugged in – and that's a major mess of wires to sort out! Having all of this done and ready for packing ahead of time not only saves time but makes the process a lot smoother.
Reserve a space for those items you will not be packing and will be keeping with you through this process. Mark them as not to be packed so our packers know and can work on the items that do need their time and attention.
Lightening Your Load Before The Move
When preparing for a move, it can be a little stressful trying to figure out how to pack and store everything. Especially when half of the items you need to pack you haven't seen in years or don't even remember ever buying! One great tip to ensure you don't pack and take along more than you need is to have a sale. Get everything together that you simply do not need or no longer want and put it out to see who will buy. This is not only a great way to get rid of unnecessary items for the trip but also beneficial because it can help bring in a little bit of money for the cost of the shipping of the items you are keeping.
Another option for lightening your load when preparing for a move is to donate. This is good for those who want to help or simply do not have the time to host a sale before the move. Donating is a great way to give back. Trust us, we know. We have collected and distributed 17,500 coats over five years to New York City's most in need during the winter months. We also recently began collecting and distributing unwanted nonperishable items. So, if there is anything you don't wish to add to your burden of packing or shipping, please let us know and we will be certain to donate to those most in need.
Have A Checklist Ready
Having a checklist to help guide you through the process of getting everything done is highly recommended. This helps ensure that the things that need doing before, during, or even after the move, get done in a timely manner. Moving can be stressful and everything runs on a schedule. Having a checklist helps ensure that that schedule is kept.
It is always a good idea to have your utilities turned off the day after the loading since you will more than likely need them throughout the process of getting moved. Make a list of the companies and their contact information so that you can check them off as you contact them for shutting off the service. This keeps all of the information collected and neat for use. It also helps keep you from trying to remember which ones you have contacted and which ones remain to be contacted.
If you are packing or shipping items that hold any kind of fluids or combustibles, it is a good idea to drain them as best as you can before being packed or shipped.
Know What Can Go
It is important to note that what may be allowed in America, may not be allowed in another country. So, know what you can and cannot bring with you into the new country you are moving to. As Americans, we enjoy certain freedoms such as the purchase and carrying of firearms, alcohol, and, in some states or parts of our country, certain controlled substances. This may not be the case internationally, so be aware before you arrive there.
Anything and everything that you are planning to take with you needs to be checked to ensure it will be allowed entry into the new country. Even certain types of literature can be banned in some countries. So, no item, small or large, should go unchecked on the consular information sheet.
No One Gets Left Behind
When moving internationally, it is very important to keep in mind that different countries have different requirements for the allowance of pets passing through their borders. Depending on their policies, this may mean that your furry babies may have to be quarantined for a certain amount of time before entering, or they may even not be allowed to enter at all.
Since your pets are no doubt important to you, always be sure to check with the consulate office of the country you are moving to. This way, there are no unnecessary or unplanned delays along the way of having you and your family reunited with your beloved pet.
International Currency And Taxes
When moving overseas, it is important to understand the currency rate of the country you are moving to, as well as any tax obligations you may have. And since you will still be a US citizen, you may also need to be made aware of any tax obligations you would have here, as well.
It is a good idea to close any accounts you won't be using overseas, as well as your current checking and savings accounts once you move. You will want to consult with your local bank's overseas representative regarding any letters of credit, transfers of funds, etc.
Important Documents And Papers
A good pre-packing task is to get all of your important documents and papers together in a safe and out-of-the-way space. Important documents could be such items as passports, marriage licenses, birth or adoption certificates, vaccination history, work contracts, etc. You will also want to keep your moving contracts and paperwork in the same space, as well. That way it is easily accessible if the need for it arises at any time during the moving process.
When moving internationally, it is always a good idea to have complete medical and dental check-ups for yourself and your family before the move. This ensures that your medical records are current and up-to-date which should allow for a smoother transition if any of this information is required. It is probably a good idea to make a spare copy or two of these documents, as well, in case something happens to one.
Depending on the country you are moving to, you may need vaccinations or immunizations for yourself or your children before entering the country. It is important to know this information ahead of time so that you can plan these doctor trips ahead of time and fit them into your already packed moving schedule. Be sure to remember to keep the documentation of these required health shots or boosters in a safe and easily accessible place.
A good tip for ensuring the safety of your important documents and papers is to have them stored on a USB Drive or in the Cloud. This doesn't just ensure their safety through the trip but also allows them to be easily accessed or found if needed or lost in paper form. This option also cuts down on all of the pages and documents that you have to keep up with while also planning and executing your international move.
International Corporate Moves
A move is something that represents and offers new opportunities and room for growth in a new area. This is true both for households and corporations. This is why having a set plan is always beneficial. It can help with preventing many issues from happening, as well as help with any speed bumps along the way.
You will want to have a timeline in place for your employees so that those relocating are ready when the day does arrive. A communication plan is also beneficial because it will keep the lines of communication open in case of any issues that arise with your employees and their move. Pre-move orientation and an evaluation and feedback session are also helpful since it will ensure everyone is on the same page and has explored together any potential risks or concerns ahead of time.
International corporate moves can be difficult to plan and execute. This is why our team at Sea & Air is ready with a variety of relocation services that will allow your move to be less stressful, as well as successful. We know the ins and outs of what it takes to make a move like this and we want to help you by being that strong foundation throughout this process.
Our company offers storage options for your corporate needs, as well as transportation once you are settled in your new place and ready for your business's belongings. We ship by both sea and air, and our international packers and movers will ensure that your items arrive safely and in a timeframe that works for you and your company. We also offer, at additional cost, a maid and putaway service to help lessen your workload.
What You See Is What You Get
At Air & Sea, we offer a free international mover quote within 24 hours, as well as provide our customers with the option of tracking that can place an immediate trace on any of your overseas shipments with us. We also keep our customers informed throughout the process with timely updates on the international move.
Our crates are quality built to protect your valuables on their long trip. We also provide climate-controlled storage. No matter your storage or moving needs, we got you covered – even if you need a container for your vehicle or boat. No worries, we got you. Our crews are professional and courteous and will assist you in any packing, shipping, or unpacking that you need to be done.
Documentation and paperwork can also be managed by us as we have trained professionals who can fill out all of the necessary paperwork for your international move. We can also arrange for any appropriate policies which might be necessary for any contents you may be shipping internationally. And we can provide you with comprehensive information on any customs or details of the country you will be moving to so that there are no surprises.
There will be no surprises with your move's price either as we don't believe in hidden costs. We will work with you to ensure that our services match your needs and your budget, as well as the timeline of your move. We value our customers and understand that not every customer or every move has the same requirements or needs. This is why we remain sensitive and open to any special requirements that are needed to ensure your move is as seamless as it can be.
Not only does our team assist you with packing, shipping, and unpacking all of your belongings, but we also can help with the removal of any debris.
Our Team Comes Recommended
We have helped a wide range of people make corporate moves over the years. Moving to a new location is stressful enough, then add in an international location. Our team of international movers will do their best to make this transition as easy as possible for your business. Sea & Air International is the company that you can rely on for expert services. Call today to get the additional information you need for office moving and international relocation services.