An international move requires a lot of steps to be taken. Sea & Air International can help you make the international moving process to Morocco a little smoother. It can be helpful when you have a professional who knows all the steps to take and can guide you through the process.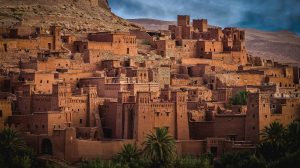 Let Us Help You Move To Morocco
An international move is exciting, but scary at the same time. Sea & Air has the services to help you with everything you will need to do. Many people fear going through customs smoothly. We will make sure you have all the paperwork and documents you need not have a problem.
An example of the many documents and paper that you will need to have signed, notarized, or ready when making your move are:
Passport
Detailed Packing List
Vehicle Registration (If Bringing It)
Vaccination Records For Pets Coming Along
Understanding of Firearms Allowance
These are just a few of the required documents you will need to have with you. Sea & Air will help you make sure everything is filled out and ready for your move.
Morocco Is A Wonderful Place
Morocco is full of views like you have never seen before. It is breathtakingly beautiful. The Atlantic Ocean is on one side, and the Mediterranean Sea is on the other. The local market that you can visit is full of authentic items. It is an experience you will want to have while in Morocco.
When you are in Morocco, you will want to see as much as possible. Whether you are there for a long time or a short time, there is so much that you can take in. Some of the most popular areas that you need to visit are:
Quartier Hobous- You can shop around for locally hand-made pottery at this location. 
Marrakech- This is a beautiful city to explore and see many interesting places.
The Blue Village Of Chefchaouen- The entire Spanish Mosque village is blue. 
Gorges of Dades- If you love hiking and nature, this is a must-see. Even if you don't, it is something that everyone will enjoy seeing. 
Sea & Air International can also help with your international move to these countries.
Contact Sea & Air For Information
If you would like to hire Sea & Air International, call us for help with international moving to Morocco. Our reputable and trusted employees can help you make this a stress-free experience. If you have any questions or concerns, don't hesitate to ask us.